Cornwall Wedding DJ for Weddings, Kids Parties, Events and Disco
Award Winning Wedding DJ and Disco in Cornwall
Welcome to Cornwall Parties, run by myself (Ben) and my wife Ami. We are known for our bespoke flare in our disco and performance, making us unlike any other Wedding, Event or Party DJ and Disco in Cornwall.
If you are looking for something a bit more cooler than your usual wedding party DJ then we can help. With so many Discos and DJs in Cornwall and the South West it can be an overwhelming experience in choosing the right one for your wedding, event or special occasion. So what makes us different? Our experience and passion in what we do.

Experience. Your Wedding & Party DJ
21 years of professional DJing is what sets apart from other DJ's in Cornwall. Having played at hundreds of clubs, events and of course weddings. Starting out as a dance music DJ in clubs such as Tall Trees, Club2K, L2, The Barn, Berties, Sound, Candy Store, Lakotta in Bristol and many more. I have been on line ups for the likes of Cream, Ministry of Sound and Club MTV. I have also been lucky enough to have DJ'd alongside a huge host of Guest DJs from the world of Dance Music.
As well as DJing, alongside my wife Ami, we are also event promoters and organizers. For 18 years we have been putting on club events all over the UK. Currently we run the UK's craziest Family rave Event, Rave Kidz.
Do not worry though I will not turn your wedding into a massive rave (unless that is what you want of course). I have DJ'd at 100's of weddings and events over the years and have been able to use my years of DJing experience to create a party that guests will be talking about for years to come.
So whether you're wanting something more modern for your wedding or party playing the very best in Nu-Disco, House, EDM, Trance, DnB, Ibiza & Rave Parties. Or your looking for a more traditional DJ playing the biggest bangers from across the decades. We have got you covered.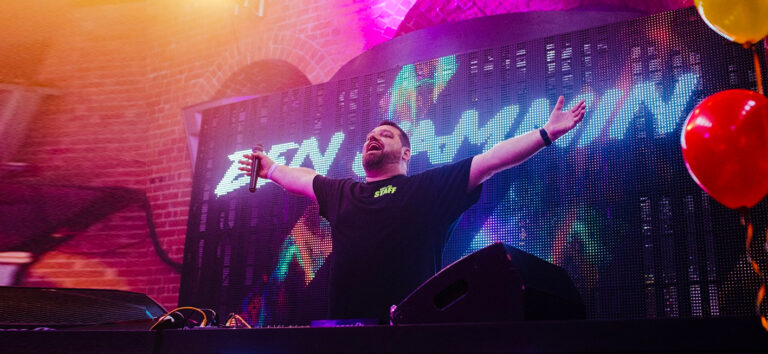 Not just a Cornwall Wedding DJ
Anyone can be a wedding DJ, all they need is a laptop, some music and a speaker right? Wrong, it takes much more to be a successful Wedding DJ and Disco. Of course having an experienced DJ helps but just as important is the equipment used, which all adds to the party atmosphere.
Professional sound systems, intelligent pro lighting and special effects. We at Cornwall Parties are proud to boast that we have one of the most professional set ups in the South West. The last thing you want is some DJ with a ropy old sound system and a disco light from Maplins turning up at your wedding and plonking themselves venue table.
As well as providing a wedding DJ and Disco we are also a professional Wedding Photographer and Videographer. So unlike other Wedding suppliers in Cornwall we can provide an Ultimate package which includes Disco, DJ, Photography & Videography.

We can DJ and cater for all types of events and parties including:
More than just a Wedding DJ & Disco
As well as our Disco & DJ Service we also provide:
Wedding Photography
Wedding Videography
Photobooth
PA & Lighting Hire
Video Wall Hire
Bouncy Castle
Large Garden Games
Candy Floss & Popcorn
Testimonial
"We were looking for a DJ in Cornwall for our wedding and were so pleased to find Ben and Cornwall Parties. He was so friendly, professional and hard-working. He provided a brilliant DJ set with a mixture of genres and songs with an awesome light show. We had an amazing day". Amy
"if you are looking for wedding photographers/DJ's look no further these guys are amazing….the best people and best service around ". Sanj
"They did my photography video and disco yesterday for my wedding they were brilliant in everything they did and the nicest couple said by all the guest aswel would defo recommend them to anyone my wedding wouldn't of been the same without them". Katie
"Wow what can I say about these guys, they were amazing from start to finish❤️ So professional, easy to get on with , we had such a laugh throughout the day, Amazing photos and DJ Ben played all the good tunes through out the evening! We would 100% recommend these guys!! If your looking for a dj or photographer pick these people!!" Nicole
"Absolutely Amazing!! Couldn't recommend any higher. From start to finish very professional and friendly. Age appropriate games etc, parents & kids alike loved it". Robyn
Whatever the occasion we can bring the party
WEDDINGS
BIRTHDAYS
ANNIVERSARIES
COPERATE EVENTS
PROMS
CHARITY EVENTS
& MUCH MORE
Contact us to discuss your requirements further
and how we can help.
EXPERIENCE
Cornwall Wedding DJ and Party Disco. We are one of Cornwall's finest Wedding DJ's and mobile discos. We are a full time professional, family run, local company with a fantastic reputation. Run by myself (Ben) and my wife (Ami) with one soul purpose, to ensure you have the best party to celebrate your wedding or special occasion.
We have over 20 years experience as a wedding DJ, event promoter, club DJ and mobile disco. During which time we have crafted our trade to ensure we are at the top of our game.
In 2020 we became award winners in The South West Wedding Awards for our amazing wedding disco and DJ. This came after being finalists in the past 4 years.
When I am not being a wedding DJ I am constantly travelling the UK making guest DJ appearances at various club nights and events.
MUSIC POLICY
We have many years experience in DJing and hosting large and intimate weddings. Playing all styles of music to suit any party from the biggest hits across the decades to the party bangers and biggest Dance music to get everyone up and throwing shapes on the dancefloor. Feel free to send a small list of some of your fave tracks and we will play them.
With 20 years of Professional DJ experience from Weddings, Clubs, Events, Dance music events, cooperate events and much more. Having DJ'd for brands such as Cream, Ministry of Sound, Hed Kandi and many more. Playing alongside some of he biggest names in Dance Music including Showtek, Judge Jules, Dave Pearce and Ultrabeat.
Click HERE to hear some of my DJ Mixes
RELIABILTY
As a successful Cornwall Wedding DJ and Party Disco company we have had to build our feedback. We are happy to say that we have 100s of 5 star reviews from previous clients. We are 100% reliable and have never let anyone down to date. When you book with us you can be rest assured that we will not let you down. We even have back up systems in place if the worst should happen and we could not attend for any reason. We would never leave you in the lurch.
This is our full time job, and we put in 100% effort into what we do. This in turn has led us to being one of the best Wedding disco in the South West. Feel free to check out some of our feedback HERE
EQUIPMENT
As a top Cornwall Wedding DJ and Mobile Disco we have to ensure that we use the right equipment for the right job that will always do what it needs to do.
We use nothing but professional high end equipment for all our Mobile discos from state in the art lighting to amazing quality sound systems. We put alot of effert into our lighting set up with lots of programming to give a lighting show with the WOW factor.
All our equipment is fully insured and tested regulary. We also always carry back up equipment incase anything fails on the day.
HOW TO BOOK
To book our Cornwall Wedding DJ or Mobile Disco. Simply get in touch to discuss your requirements with us and we will put a quote together.
Prices for our Wedding DJ and Mobile Disco, in Cornwall start at £395.
We will require a £100 booking fee to secure your date. We will send you a full booking contract and receipt. The remainder is to be paid 2 months before the event.
TEL: 07474340799 OR CLICK HERE TO CONTACT US